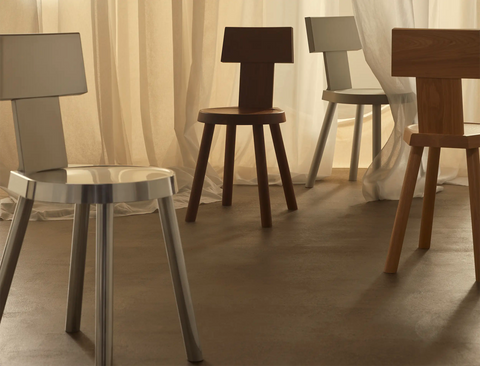 "A contemporary revisit of the humble Austrian folk chair"
Designed in 2021 by David Caon and Henry Wilson, Alpine Chair is a sturdy, solid timber chair made in Sydney, Australia. With the latest edition in Aluminium.
The Alpine chair was designed as a sort of tribute to the simple and traditional workshop chairs of the Tyrolean region in Austria. Hewn by hand from solid timber, uneven and child-like in appearance, these classic craft pieces are often inserted into the beautiful corners of a contemporary farmhouse interior design project. It's impossible to know whether these inclusions are ironic or genuine on behalf of designers and stylists, but it does not take away from the truth that there is an honest beauty to the naivete of such works. This is what attracted Laker designers Henry Wilson and David Caon to these pieces as a reference.

Also manufactured from solid timber, either American Walnut or Oak, the Alpine chair upholds several tenants of the original reference but is designed using modern methods and manufactured with the benefit of current day technologies. Where the craft chairs are all somewhat different, Alpine is a modern piece of industrial design and furniture with each one created identically, differentiated only by the grain of the timbers.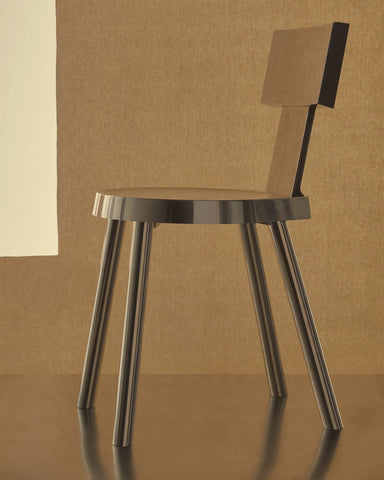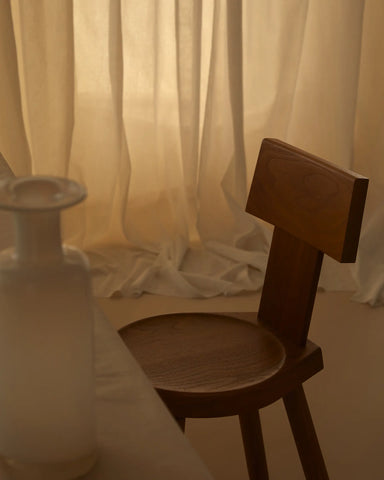 More recently, Wilson and Caon have moved further again from the reference and produced a demountable aluminium edition of Alpine. Manufactured by 5 axis CNC machining and rotational CNC laser cutting machines, the Alpine Aluminium chairs are an aerospace-grade reference of the original timber chair.

Alpine Aluminium was revealed in Melbourne, Australia during NGV Design Fair 2023 as a part of the OIGÅLL PROJECTS stand and later during Melbourne Design Fair as a part of OIGÅLL's 'Design House'.
Through contemplation and curiosity, photographer Lillie Thompson and art director Cristina Guerrero Fernández, worked together on a collaborative series documenting the Alpine chair. Finding the dialectic between past and contemporary forms, the story is an ode to legacy, craftsmanship and longevity through contemporary design.

Immersed in a minimal and light filled scene, each chair's character, grain, and grade evoke distinct atmospheres, producing a singular study of the piece in all its iterations. A narrative created through suggestion and juxtaposition, where the interplay of shadows and materials aim to transcend functionality, while embracing the ability of the chairs in transforming space.

'Inherited Perspectives' is a visual essay around shape, materiality and the environment;

An invitation to unseen possibilities and an exploration of the timeless aesthetics that defines the creative duo.

See more of Lillie Thompson's work here and Cristina Cuerrero Fernández's work here. Many thanks from everyone at Laker for their thoughtful work.